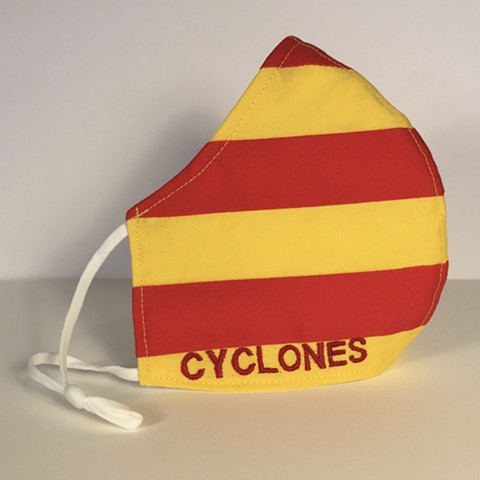 Face Mask: Custom Team Mask, Example 2
100% Cotton, 3 layers, nose wire, adjustable elastic ear loops
Size: L shown, Available in S, M, L, L+, XL
The CUSTOM TEAM FACE MASKS price includes embroidery of your team mascot name.
If you are interested in adding Custom Embroidery to any other masks on my website, please visit the Custom Embroidery page.
CUSTOM TEAM FACE MASKS:
$20 for one, $33 for two
(plus sales tax for shipments/deliveries within Kansas)
Masks are 3 layers of 100%, high quality cotton fabric with nose wires, adjustable, very soft, elastic ear loops, and custom stitched team mascot.
CHOOSE your TWO fabric colors and the NAME of the mascot!
Masks come in sizes:
Small (children)
Medium (pre-teens)
Large (teens and most adult women)
Large Plus (most adult men)
Extra Large (adults with larger chins or noses and/or wider faces)
To purchase a mask, go to the Contact link or email me at kristinnowlinmasks@gmail.com with the following:
* Your email address
* The TWO fabric colors you want
* The SIZE you want to purchase
* The MASCOT name you want stitched on the mask
For example: I would like a mask in red and yellow with CYCLONES in size Large
* Address you want masks delivered to
* Any questions you have for me
I'll email you back to be sure I have all the details correct and give you pricing for your choices.
I will send you an invoice via PayPal and will ship the masks as soon as I get them made and payment is received. Shipping will be $5 for up to 4 masks. Actual cost beyond that.
If you live in Manhattan, KS, I will deliver for free to your door and would also accept check or cash payments. Thank you!
Please note that masks could take 1-3 days for me to construct, plus shipping time.