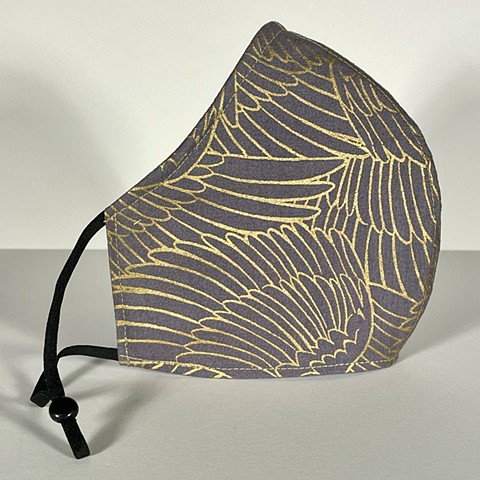 Face Mask 52: Gray and Gold Wings
100% Cotton, 3 layers, nose wire, adjustable elastic ear loops
Size: L+ shown, Available in S, M, M+, L, L+, XL
If you are interested in adding Custom Embroidery to any mask, please visit the Custom Embroidery page.
MASKS:
$15 for one, $25 for two
(plus sales tax for shipments/deliveries within Kansas)
Masks are 3 layers of 100%, high quality cotton fabric with nose wires and adjustable, very soft, elastic ear loops. Masks come in sizes:
Small (children)
Medium (pre-teens)
Medium Plus (some teens)
Large (most teens and most adult women)
Large Plus (most adult men)
Extra Large (adults with larger chins or noses and/or wider faces)
To purchase a mask, go to the Order Face Masks Here link OR email me at kristinnowlinmasks@gmail.com with the following:
*Your email address
*The MASK and SIZE you want to purchase
For example: I would like Face Mask 18 in size Large Plus
*Any questions or special requests you have for me
I will send you an invoice via PayPal (PayPal account not required). I will email you if I have any questions about your order and will ship the masks as soon as I get them made and payment is received. Shipping will be $5 for up to 4 masks. Actual postage cost for more than 4 masks or rush orders.
If you live in Manhattan, KS, I will deliver for free to your door and would also accept check or cash payments. Thank you!
Please note that masks usually take 1-3 days for me to construct, plus shipping time.