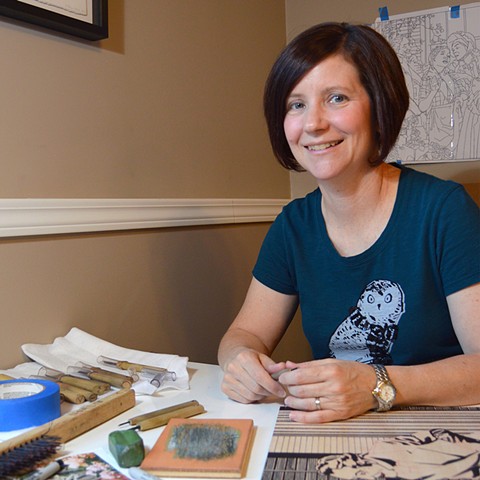 Kristin Powers Nowlin, a native of Ames, IA, received her BFA from the Columbus College of Art and Design in Columbus, Ohio in 1992 and her MFA in Printmaking from Ohio University in Athens, Ohio in 1995. She has previously taught at many colleges and universities across the country, including Southeast Missouri State University, Adams State College, and Clarion University of Pennsylvania, where she was an Associate Professor of Printmaking and Drawing. Currently, she prints and works in her home studio and is an Instructor at Kansas State University in Manhattan, Kansas.
Kristin's work has been included in over 200 solo and group exhibitions throughout her career. Nearly a third of these have been national juried exhibitions where her work was selected by jurors such as Jerry Saltz, Nicola López, Willie Cole, Lucy Lippard, Eric Fischl, and Starr Figura; internationally recognized printmakers, such as Karen Kunc, Anita Jung, Francis Myers, and Warrington Colescott, have also included her work in international and national printmaking exhibitions. Kristin has received a Pennsylvania Council on the Arts Individual Artist Fellowship in the discipline of Visual Arts – Works on Paper and has been an artist-in-residence at the Lux Center for the Arts in Lincoln, Nebraska and at Central Wyoming College in Riverton, Wyoming. In the last few years, she has been a Visiting Artist at Ohio University, Youngstown State University, Wichita State University, Lawrence University, and Louisiana Tech University.
Today, Kristin has gone back to her roots (she started CCAD wanting to be a fashion designer!) and is making comfortable and unique Face Masks to help keep communities safe.